As an Indigenous-owned building and construction company, BY Group offers a unique opportunity to partner with Aboriginal and Torres Strait Islander people and make a tangible difference to the lives of current and future generations.

So how does BY Group compare to other construction companies?

First and foremost, safety is our priority. We also have a track record of consistently delivering projects on time, on budget and to the highest quality. But what really sets BY Group apart is our higher purpose, which is to provide economic independence and sustainable employment for Indigenous people within the construction industry.

So let's explore how BY Group is Closing the Gap for Indigenous Australians. We'll also be analysing our work with the Wunanbiri Preschool, and the Department of Aboriginal Affairs in Bourke, to demonstrate the benefits of partnering with an Indigenous-owned construction company.
How Engaging an Indigenous-Owned Construction Company Helps to Close the Gap
Closing the Gap is an Australian government strategy aimed at establishing equality and reducing disadvantage for Aboriginal and Torres Strait Islander people by 2030.

This government initiative aims to achieve equality in:
Access to early childhood education
Education and training
Employment
BY Group, as one of Sydney's top Indigenous owned construction companies, is helping Close the Gap through Indigenous employment and support. We are also committed to Growing Indigenous Construction Talent by providing on-the-job training and work experience to our Indigenous Cadets.

BY Group is a Supply Nation certified supplier, and as a result, we support the local Indigenous communities in which we operate by using our extensive network of community contacts to hire local Indigenous subcontractors.
Aboriginal Procurement Policy (APP): Supporting Employment Opportunities for Indigenous Australians
Valuing the economic, social and cultural contribution of Aboriginal and Torres Strait Islander peoples, the APP aims to support employment opportunities for Indigenous Australians, and nurture sustainable growth of Aboriginal businesses. They're achieving this by driving demand via Government Procurement of goods, services and construction.

In line with this goal, the APP has set itself three primary targets that must be achieved by the 31st of December, 2021:
NSW Government clusters will direct one per cent of their addressable spend to Aboriginal businesses
Three per cent of local goods and services contracts will be awarded to Aboriginal businesses
NSW Government procurement activities will support 3,000 full-time equivalent (FTE) opportunities for Aboriginal and Torres Strait Islander peoples


Indigenous Procurement Policy (IPP): Fostering Local Indigenous Businesses
The primary purpose of the Indigenous Procurement Policy is to stimulate Indigenous entrepreneurship, and support business and economic development. This will give Indigenous Australians more opportunities to participate in the economy.

To follow the IPP, a business must do one of the following:
Directly hire more Aboriginal people
Subcontract to suppliers who are currently hiring Aboriginal people
Engage Aboriginal businesses


Helping You Achieve Your IPP and APP Targets
By partnering with BY Group, we can help you meet your social procurement requirements and IPP targets by preparing an Indigenous Participation Plan, and supplying progress and Aboriginal participation reports that help you measure your progress towards equality.

Our reports include:
How many Aboriginal businesses were engaged on a project
The value of purchases we made with Aboriginal businesses
The total number of Aboriginal people we employed on a government contract
The total number of hours Aboriginal people worked on a government contract


Wunanbiri Preschool: Building High Quality Facilities to Nurture Young Minds
Looking to upgrade their facilities, the Wunanbiri Preschool approached BY Group for refurbishments.

Working on a live, preschool site, we were challenged with designing a functional and spacious preschool within a very tight timeframe and on a restrictive budget.

In order to supply the educational amenities, play areas and staff facilities that would give young children the tools they needed to thrive in adulthood, we invested in the local Indigenous community to deliver the project on time and on budget, while providing the resources and training necessary to ensure a Zero Harm worksite.


What we achieved
Committed to 'Closing the Gap' and supporting employment opportunities for local Indigenous Australians, we engaged Indigenous subcontractors who were local to the area:
The Project Engineer and Foreman were both Indigenous
9/13 trades and services engaged were Aboriginal-owned companies, for a total of 69% of hired trades and services being Indigenously owned
The number of local Indigenous subcontractors engaged equated to 57% of the total project value
In addition to this, our appointed Foreman on the project had actually attended the Wunanbiri Preschool as a child, so working on the project was a very meaningful experience for him.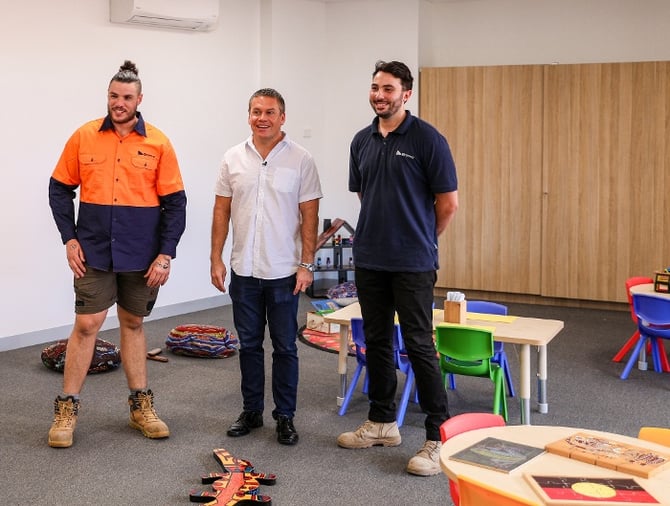 To ensure safety standards were maintained on the worksite we provided resources and training to support a Zero Harm workplace. The project was also supported by an ISO-certified OH&S integrated management system.

With our commitment to creating equality for Indigenous Australians, we were able to successfully refurbish the Wunanbiri Preschool on time and on budget, giving young minds the tools and facilities, they needed to prepare for a successful future.
See more images of the project here >
The Department of Aboriginal Affairs Bourke Office: A New Design and Fit out for Supporting Indigenous Interests
The Department of Aboriginal Affairs (DAA) is a diverse agency that works alongside Aboriginal peoples and communities to make sure their voices are heard, and interests represented. They support the social, cultural and economic aspirations of NSW's Aboriginal people by leading and influencing positive change in government.

When the DAA needed a complete fit out of their new office in Bourke—as well as upgrades to the base building—they contracted BY Group, with the Department of Education acting as project manager. Due to both By Group and the Department of Education's continuing commitment to Indigenous Participation within projects, we were able to engage the skilled Indigenous subcontractors living within the remote community of Bourke.
What we achieved
In line with our shared commitment to Indigenous Participation, we are proud to report 80% Indigenous Participation within the project. The project saw:
22 companies engaged

15 people inducted

12 Aboriginal people employed

0 limb-threatening injuries

0 safety incidents
Furthering our efforts to Close the Gap, there were also three Indigenous apprentices onsite receiving on-the-job training and work experience throughout the course of the project.

By engaging local Indigenous professionals within the remote town of Bourke, we were able to deliver the project in a timely and cost-effective way, while remaining true to our values of a safe work environment, and equal opportunities for all Indigenous Australians. We are proud to have participated in the process of improving the facilities for our Indigenous brothers and sisters in Bourke.


Closing the Gap with Indigenous Building and Construction
Closing the Gap has unified Aboriginal and Torres Strait Islander people across Australia. By working together to build better opportunities for Indigenous Australians, we can help to create equality for all people.

By engaging local Indigenous businesses and subcontractors, we've been able to deliver a vast range of building projects on time, on budget and to the highest standard of quality. We achieve this while helping Indigenous communities participate in the economy, fostering Indigenous entrepreneurship, and growing Indigenous construction talent with on-the-job training.

By partnering with the Indigenous experts in building and construction, you'll be able to leave a legacy that fosters Indigenous talent and supports new opportunities for Aboriginal and Torres Strait Islander people.

Find out how we can help you successfully build your next big project >