About the Event
In the spirit of NAIDOC Week 2022, BY Group sponsored the Youth & Family Day that was hosted by the 3Bridges Community, along with their partner Georges River Council.

There were lots of exciting games like the Oztag competition, face painting, cricket and basketball clinics, and some incredible cultural performances.

It was a great event. We accomplished the purpose of the event by connecting and strengthening relationships with our diverse communities.
Featured in The Leader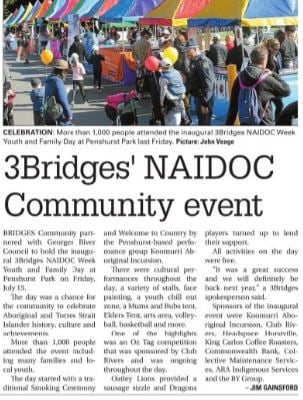 The Youth & Family Day event was recently featured in "The Leader" on the fourth page of the issue with details about the event.
"More than a 1000 people attended the event including many families and local youth." According to 3Bridges, the event was a huge success.
Event Gallery